And by joys I really mean, health benefits!  Turmeric truly is one of the all time Superfoods of our time.  There is pretty much nothing Turmeric will not benefit and it's fun to cook with as well as easy to supplement with.  It is definitely at the top of my supplement recommendations for sports injuries & pain, but that's not all it treats.  In general if you are supplementing you would supplement with the active component of the Turmeric plant; Curcumin.
Curcumin
Curcumin and Turmeric have been used for ages in Chinese herbal medicine (E Zhu & Yu Jin) and Ayurvedic Medicine as well.
Curcumin is a pigment and the active component of the Turmeric root, it is what gives it that bright orange/yellow color.  Biochemically speaking, Curcumin is a natural phenol that (like all other phenols… i.e. what makes our fruits and vegetables the vibrant colors that they are) are great natural-born anti-oxidants.
Anti-Oxidants
Anti-oxidants are what keep us young.  They eat up all the oxidized molecules and their by-products (free radicals) that are ever-present in our bodies.  Things that cause oxidation, or oxidative stress, include sun damage, over-cooking our foods, microwaves, eating trans fats, processed foods & sugar, burning your cooking oil, excessive exercise (click here for tips on how not to over-train), a sedentary lifestyle, smoking, excessive alcohol intake, stress… the list goes on.
The problem with the oxidation process is not if it's going to happen (it most definitely is), it's the fact that it can easily get out of control,  causing havoc to the system.  For each person, the amount of damage varies in relation to their lifestyle choices, their diet, their activity and stress levels.  The key is how to negate the effects of something that is bound to happen and catch it before it gets so bad that you are diagnosed with something like heart disease which effects a considerable portion of the population.  Heart disease, in particular Hypertension & Atherosclerosis, have been linked to free radicals.  It is essentially the underlying cause, but what we see, and what is oftentimes the target of discussion, is the buildup of cholesterol to heal this damage in the artery and the subsequent chronic inflammation which causes the list of symptoms that we attribute to heart disease (Alexander, 1995).
Basically, it's hard to bypass the oxidation process in our bodies, what it comes down to is how we deal with it.  The choices we make regarding our diet, our supplements, our activity level and our emotional/mental status directly affect our health (it's science).  So why not add in an easy way to combat this natural process and try some Turmeric, eat more brightly colored fruits and vegetables, supplement with a Curcumin supplement or Chinese herbs!
Benefits
Some of the known benefits of Turmeric and Curcumin include the following:
Inhibits skin cancer growth (University of Texas, 2005)
Detoxifies the Liver (Girish & Pradhan, 2008)
Increases the effectiveness of chemoradiation when used to treat cancer (Abuzeid et. al, 2011)
Lowers rate of Alzheimer's (inhibiting the growth of amyloid plaques in the brain) (Fiala, et.al, 2011)
Decrease pain from Arthritis and other types of pain (Bright, 2007)
May slow the progression of Multiple Sclerosis (Bright, 2007)
Decreases the chances of childhood Leukemia (Childrens Hospital Los Angeles, 2011)
May aid in weight management and fat metabolism (Skulas-Ray et. al, 2011)
Antioxidant effects
Antiviral effects
Anticancer effects (Aroch et. al, 2010 & Abuzeid et. al, 2011)
Antibacterial effects
Antifungal effects…
(Weil, 2010)
If you are interested in some of these research studies, please see the links below under Sources. 
Curcumin in Chinese Medicine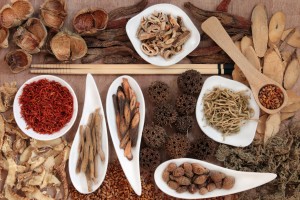 Curcumin is commonly found in many Chinese Medicinal Formulas and can also be used on its own. There are two common names, defined by which part of the plant is utilized.
E Zhu – Curcumae Rhizoma is used to break up blood & qi stasis, resolve food stagnation and stop pain.  It is commonly found in formulas that treat painful menses, abdominal masses and pain as well as in the treatment of cervical cancer.
Yu Jin – Curcumae Radix also moves qi and blood.  In addition it clears heat from the heart and cools the blood.  It is also commonly used to treat painful menses and pain, but in addition treats jaundice, gallbladder stones, anxiety, mania and traumatic injury (including any and all sports or other injuries). (Hemi, 2009).
If you are interested in more information on taking Chinese Herbs please consult your Acupuncturist & Chinese Medical Practitioner for an individualized formula to suit your needs.
Supplements
I often recommend supplementing with Curcumin to many of my patients.  As noted above, Curcumin has a similar effect as that of Ibuprofen for pain.  It has a natural anti-inflammatory property (Kohli, Ansari, Ali & Raheman, 2005).
Two of my favorites are:  Both are great for pain of any kind.
Curamin &
Zyflamend (contains a few other anti-inflammatory herbs as well).
Both are available in my Essential Healing Store – in the Medicine Cabinet
Till next time, be pro-active with your health and do your body good!  As always, if you have questions, comments or thoughts, please feel free to share, comment, or email me personally!
Be well ~ Erin
Sources:
A. C. Skulas-Ray, P. M. Kris-Etherton, D. L. Teeter, C.-Y. O. Chen, J. P. Vanden Heuvel, S. G. West. A High Antioxidant Spice Blend Attenuates Postprandial Insulin and Triglyceride Responses and Increases Some Plasma Measures of Antioxidant Activity in Healthy, Overweight Men. Journal of Nutrition, 2011; 141 (8): 1451 DOI: 10.3945/jn.111.138966
Alexander, W. (1995). Hypertension and the pathogenesis of atherosclerosis: oxidative stress and the mediation of arterial inflammatory responses. American Heart Association, 25, 155-161. Retrieved from http://hyper.ahajournals.org/content/25/2/155.full
Bright, J. J. (2007). Curcumin and autoimmune disease. Advances in Experimental Medicine and Biology, 595, 425-451. Retrieved from http://www.ncbi.nlm.nih.gov/pubmed/17569223
Children's Hospital Los Angeles (2011, February 18). Scientists bioengineer a protein to fight leukemia. ScienceDaily. Retrieved January 28, 2012, from http://www.sciencedaily.com­ /releases/2011/02/110218152821.htm
Girish, C., & Pradhan, S. C. (2008). Drug development for liver diseases: focus on picroliv, ellagic acid and curcumin. Fundamental and Clinical Pharmacology, 22(6), 623-632. doi: 10.1111/j.1472-8206.2008.00618.x
Hemi, J., (2009).  Ben Cao Application.  Version 1.1.2
I. Aroch, S. Kraus, I. Naumov, E. Ron, S. Shapira, D. Kazanov, N. Giladi, A. Litvak, S. Lev-Ari, A. Hallak, I. Dotan, B. Shpitz, N. Arber. Chemopreventive effects of Coltect, a novel dietary supplement, alone and in combination with 5-aminosalicylic acid in 1,2-dimethylhydrazine-induced colon cancer in rats. Therapeutic Advances in Gastroenterology, 2010; 3 (5): 281 DOI: 10.1177/1756283X10379258
Kohli, K., Ansari, M., Ali, J., & Raheman, Z. (2005). Curcumin: a natural anti-inflammatory agent. Journal of Pharmacology, 37(3), 141-147. doi: 10.4103/0253-7613.16209
Milan Fiala, Michelle Mahanian, Mark Rosenthal, Matthew T. Mizwicki, Eric Tse, Tiffany Cho, James Sayre, Rachel Weitzman, Verna Porter. MGAT3 mRNA: A Biomarker for Prognosis and Therapy of Alzheimer's Disease by Vitamin D and Curcuminoids. Journal of Alzheimer's Disease, March 02, 2011 DOI: 10.3233/JAD-2011-101950
Weil, A. (2010, December 28). Turmeric health benefits: have a happy new year with turmeric The Huffington Post, Retrieved from http://www.huffingtonpost.com/andrew-weil-md/turmeric-health-have-a-happy-new-year_b_798328.html
W. M. Abuzeid, S. Davis, A. L. Tang, L. Saunders, J. C. Brenner, J. Lin, J. R. Fuchs, E. Light, C. R. Bradford, M. E. P. Prince, T. E. Carey. Sensitization of Head and Neck Cancer to Cisplatin Through the Use of a Novel Curcumin Analog. Archives of Otolaryngology – Head and Neck Surgery, 2011; 137 (5): 499 DOI: 10.1001/archoto.2011.63
University Of Texas M. D. Anderson Cancer Center (2005, July 12). Potent Spice Works To Block Growth Of Melanoma In Lab Test. ScienceDaily. Retrieved January 28, 2012, from http://www.sciencedaily.com­ /releases/2005/07/050712232338.htm